Stress Reset†
Fast-acting stress relief that works within 30 minutes or less†
List Price: $32.99
Sale $26.99
You save $6.00 (18%)
---
3-4 Day Ground Shipping
Free Shipping Over $50
Money Back Guarantee
MegaFood Stress Reset tablets harnesses the power of L-theanine 200 mg to provide fast-acting (1) stress relief that works within 30 minutes or less†
This supplement features Lemon Balm, with a rich herbal heritage for calming nerves, and B Vitamins, like b12, which are foundational to whole-body health and support a healthy brain and nervous system†
Can be taken anytime of day, even on an empty stomach
Unwind in no time with MegaFood stress relief tablets. This comprehensive 3-in-1 formula features L-Theanine for fast-acting stress(1) relief within 30 minutes, Lemon Balm with a rich herbal heritage for calming nerves, and B Vitamins to support whole-body wellness†. When stress strikes, simply take two tablets with a beverage and wait 30 minutes for the calm to kick in. This formula is even gentle enough to be taken on an empty stomach.
(1) L-Theanine works within 30 minutes or less
Adults take 2 tablets a day with a beverage.
L-Theanine 200 mg supports fast-acting(1) stress relief†
Lemon Balm 300 mg for calming nerves†
Eight B Vitamins including Thiamine, Riboflavin, Niacin, Vitamin B6, Methylfolate, Methyl B12, Biotin, and Pantothenic Acid to support whole-body health†
Supplement Facts
Suggested use:
Serving Size
Servings Per Container
AMOUNT PER SERVING
% Daily Value
** %Daily Value (DV) not established
MegaFood Stress Reset is Proudly Certified
Tested for 125+ Herbicides & Pesticides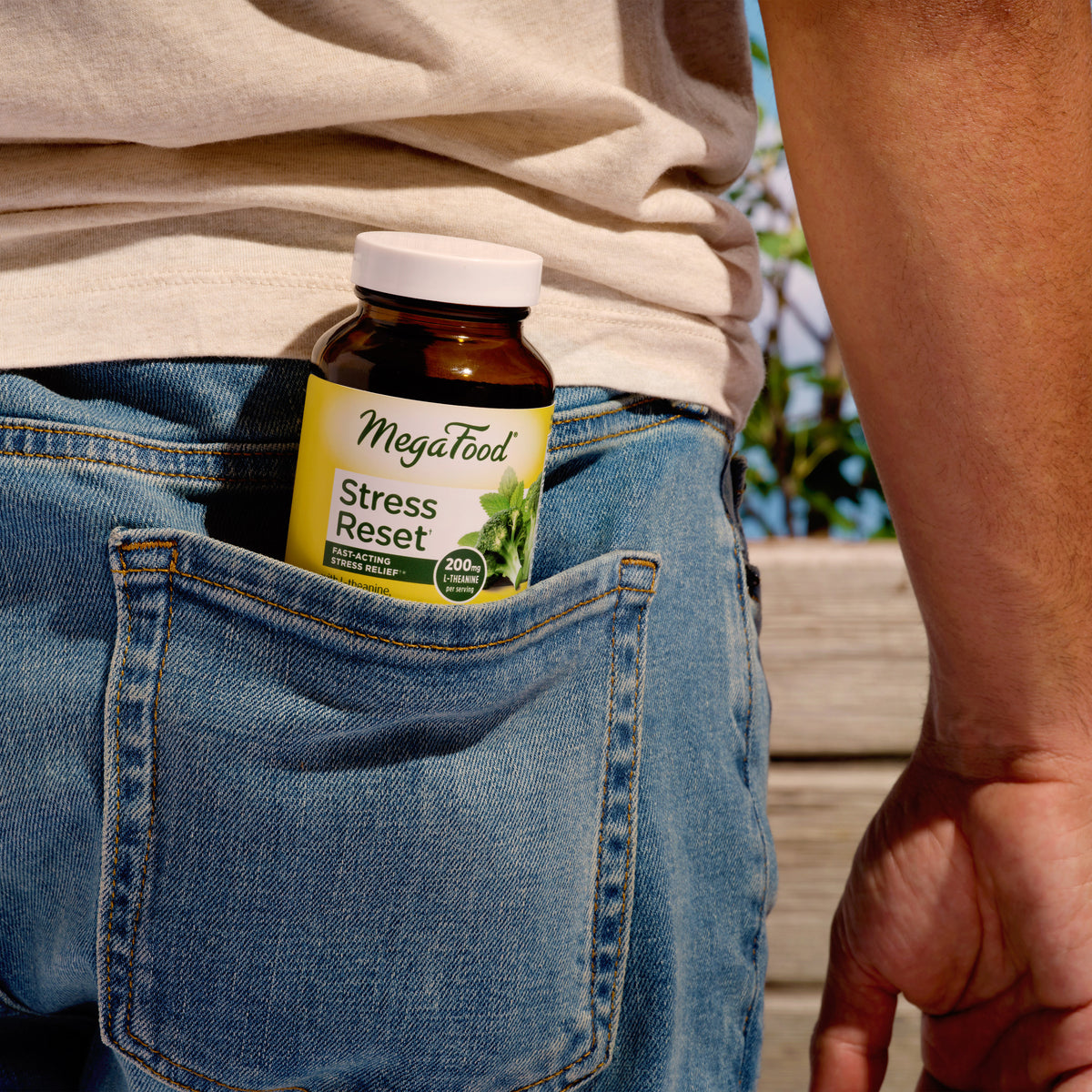 Unwind in no time!
Get stress relief in 30 minutes (or less) with Stress Reset!
Supports fast-acting(1) stress relief† with L-Theanine  

Lemon balm for calming nerves†

B vitamins for whole-body health†